My Art
I hope thou art pleased!
Vasilios Gardiakos
Through out my life I have been greatly attracted to the arts. My attraction went beyond the appreciation of all that is beautiful or thought provoking. I felt compelled to create and so I did.
My love of the arts were greatly influenced by my sister Vasiliki and brother Soterios. My painting from Jackson Pollock and the impressionists. My Photography Nathan Lerner and Yanni Galanopoulos. My short-short story writing from Georgia Post. My music has its influence from Hadjidakis, Theodorakis and Xarhakos and from Classical, new-age/space and jazz though it resembles neither.





========================+++=========================
My Art Years and Gaps
Oh! too many gaps.
c. 1967 - Chicago Photography
1969 - Athens Painting
c. 1970 - Abstract Painting
1978 - Crystal Beach Painting
1980 - Steinway Piano
c. 1990 - Chicago Painting
c. 1989 - 3D Photography
see article below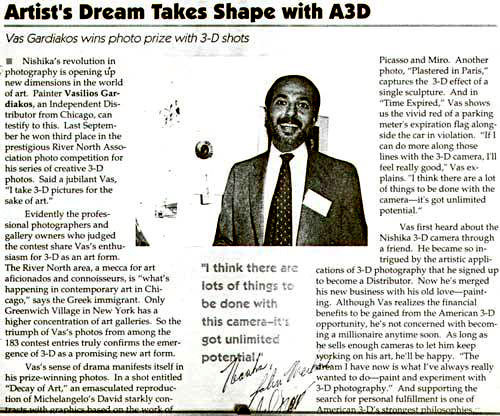 1992 - Kalamata Animation
1992 - Kalamata Earthquake Abstract Photography
1992 - Kalamata Electronic Music.
1999 - Crystal Beach Found Art Photography
c 1999 - Kalamata Abstract Painting
c 2000 - Art Manipulations
2004 - Tarpon springs Short Stories
2005 - Tarpon Springs ArtMusicDance.com
2006 - Tarpon Springs Computer Music
I am keeping my fingers crossed!

================================================
Vas Gardiakos - Art Exhibits
June 1987 Central Street Fair - Evanston Illinois

July 1988 Montay College Art Festival - Chicago Illinois
November 1989 Second Annual River North Exposed - Chicago - Illinois
Third Place Amateur Category $50
see article below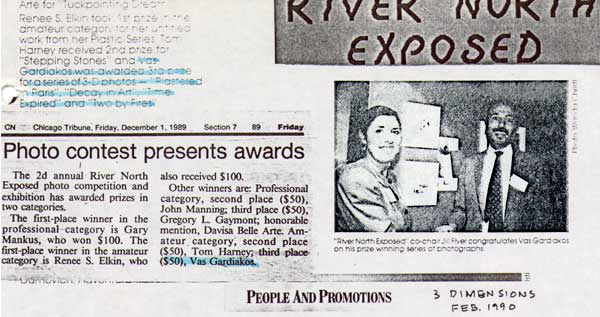 March 1990 Gallery 1633 - Chicago Illinois
see photo below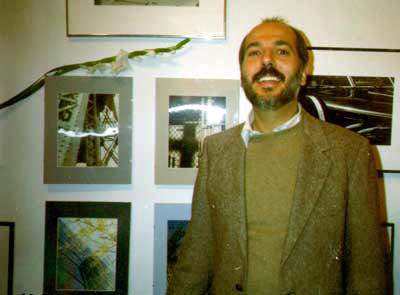 April 1990 Park Forest Photography Exhibit - Park Forest, Illinois
First, Second and Third Place Alternate Processes
June 1990 41st International Exhibition of Photography - Del Mar California
Honorable Mention
November 1990 Photospiva 90 - Joplin, Missouri
November 1990 Third Annual River North Exposed - Chicago, Illinois
February 1991 The Gallery Cabaret - Chicago, Illinois
August 1991 Quadrant - Chicago, Illinois
see photo below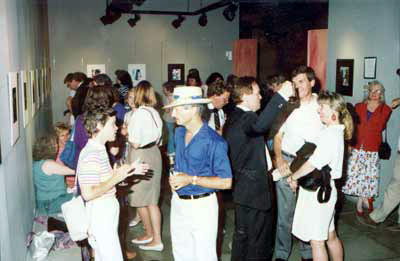 March 1995 Salon Lillico - Tampa, Florida
June 1996 Ambiance Gallery - St. Petersburg, Florida
January 2000 Ambiance Gallery - St. Petersburg, Florida
February 2000 Tachyons Gallery - Largo, Florida
September 2004 Tampa Gallery of Photographic Arts - Tampa, Florida
February 2013 Octagon - Clearwater, Florida

All the background tiles on this website are
segments of some of my photos or paintings.
- Scroll down to the bottom see a complete tile -











___________________________________________________