My Music Studio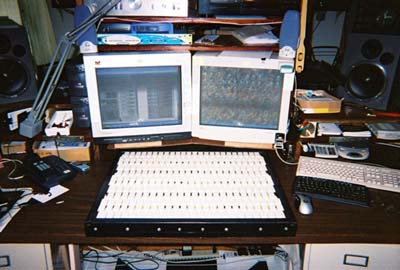 My desktop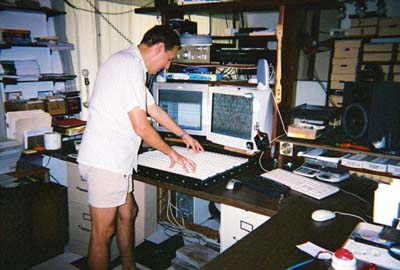 Vas playing the Maxi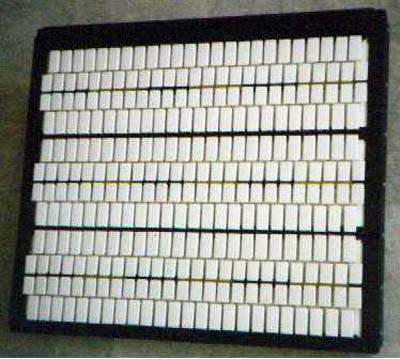 The Maxi (294 keys) one of a kind
custom master midi keyboard controller.
Maxi: The Maxi uses six 49 key synch action midi keyboard controllers. I highly modified these keyboards and then set them in pairs inside a frame. The Maxi therefore has six midi outputs which are inputted to the USB MidiSport 8x8s midi interface to organize the midi data. The exchangeable yellow markers (barely visible) are used to separate the octaves.
Here! Here! Hear:


My MC5 Music Computer. I drew the specifications, procured the parts and then assembled it. This was the first computer I built. To my surprise it worked the firs time I fired it up. It did not smoke. Really!
Motherboard: Gigabyte GA-K8NS ULTRA-939.
Processor: AMD A64 X2 4400 with Zalman CNPS7000B-AlCu cooler
System Memory: Two Corsair TWINX2048-3200C2. Total 4 GB RAM.
Midi Case Tower: Antec Sonata II case with 450 watt PSU.
Hardware: Maxi 294 key midi keyboard controllers and USB MidiSport 8x8s midi interface. Audio Card: Waveterminal 192X

Software: Windows XP Professional with Service Pack 1 and 2. No hardware midi/audio modules, use only VST FX and VST instruments.
Audio: Event 20/20 bas and 20/20 System Subwoofer. Sony MDR-7509 headphones.

Misc: Belkin KVM Switch: Gyration and Logitech mouse, 1.44 MB Floppy Drive, Video Card / Graphics Card: Matrox G550, 32 MB DDR. Monitor: ViewSonic A90f+ and 19" ViewSonic A91f+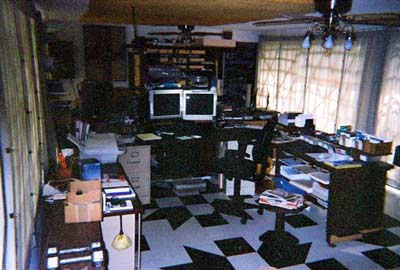 Full shot of my studio.
The silhouette of the tape on the windows is
from the four Florida hurricanes of 2004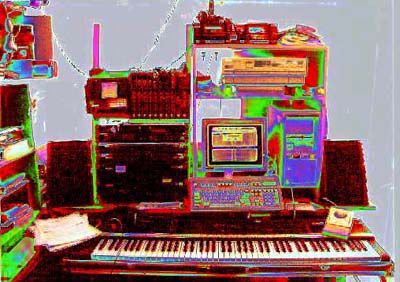 My 1992 Music studio in Kalamata






______________________________________________________________